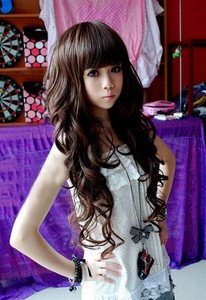 If you are an Otaku or an extreme Japanese Anime fan, chances are you would want to go to Comic Con while cosplaying your favorite character. Many otakus do this every year and it has become one of the most celebrated traditions when it comes to Anime conventions. If you want to really look like your favorite character, you might want to have a hairdresser help you style your hair.
Hairdressing can be helpful even during events like Comic Con or other events that involves cosplaying. Most anime characters have stylish hair or sometimes messy hair, a hairdresser is sure to make your hair look the same no matter how complicated the character's hair might look.
Hairdressers usually have a wide knowledge about the different cuts and hair styles as well as the products needed for your hair to look a certain way. This is something that they learned from beauty school and apply on their profession. They usually have low fees especially when they are just starting out so there's no reason for you to worry about expensive talent fees.
Another option is to learn hairdressing yourself so you don't have to pay anyone else to do it for you. Hairdressing courses are usually offered in many beauty schools around the world. The tuition fee will depend on the school that you wish to attend. Some schools even offer scholarships and help their students with their tuition fees. These grants will depend on your background as well as your grades during your high school and college days. If you are interested to enroll for a hairdressing course, here are the top beauty schools today.
Aveda Institute
This school was founded by Horst M. Rechelbacher in th late 70's. Now, Aveda institutes are found all over the United States, Canada and Australia. They offer various cosmetology, hair design, esthetics/skin care, nail technology, barbering, cutting, esthiology, spa training, massage and manicuring programs when it comes to beauty including:
• Cosmetology
• hair design
• aesthetics/skin care
• nail technology
• barbering
• cutting, esthiology
• spa training
• massage
• manicuring
Arrojo Cosmetology School
This school is located in New York, New York and was built by Nick Arrojo. It can be found next to the Arrojo studio which is one of the most popular hair salons in New York. The teaching process includes demos, workshops, their and other types of practical application when it comes to salons. All graduates of this call also has equal opportunities to get in the the Arrojo Studio team.
Paul Mitchell Schools
The Paul Mitchell network was built more than 20 years ago and has more than 100,000 salons in over 80 countries. This legendary school was founded by Paul Mitchel who is a professional hair stylist and product innovator.
Regency Beauty Institute
This school is located in Brooklyn Park, Minnesota. This school does not franchise but has Salonpartners which is a network of professionals who hire their graduates. All graduates are expected to have a job ready for them.